If your family is looking for a "rockin' good time", add the Mines Museum of Earth Science to your list of fun and informative gems in our very own backyard. Probably not well-known in the landscape of cheap-things-to-do-with-the-family, the Museum in Golden at the Colorado School of Mines opened in 1874. And is definitely worth checking off your list of "been there, done that" for Colorado attractions. It's a rocky experience, but in the best possible way!
The Museum is definitely a gem, often overlooked. Locals and tourists alike will find the experience sparkly, fun and informative and all at no-cost. It has two floors displaying fossils, gemstones, meteorites, minerals and mining artifacts.
It also acts as the Colorado state repository for mineral heritage and promotes its importance and understanding to both the academic world and public.
Museum visitors will notice a new collection of mining artifacts and expanded exhibits of Colorado minerals, including a new section dedicated to minerals from Alma's Sweet Home Mine and new interactive exhibits for kids.
The variation of colors, sizes and shapes of the rocks and minerals on display almost makes you feel like you're at an art museum — nature's art! The rocks definitely incite many "oohs and aahs" from visitors, as well as lots of camera clicks.
You can learn about the creation and evolution of rocks and minerals through various displays, including a 7-minute video "Golden Through Geologic Time." Let's just say rocks, gems and minerals don't happen overnight. They even have specimens from millions of years ago on display.
Everyone will especially love the ultraviolet fluorescent minerals. It's absolutely amazing.
Now on display at the Mines Museum of Earth Science is a meteorite that was found in Colorado and weighs over 40 pounds. The donor used it as a doorstop until he learned its true nature.
Even more astonishing, you can even see a moon rock up-close. Plus, expand your knowledge and history of mining. Who knew mining artifacts could be so interesting? The display of old mining lanterns is quite illuminating. (There are just too many possible puns, right?)
Plus, the brand-new museum store offers an assortment of t-shirt, books and rocks — starting at just $1 for "starter" pieces for the beginning collector.
We even noticed a rack of FREE books, journals and pamphlets about rocks and minerals for the true rock enthusiast at the entrance. All of it very academic, so don't expect much else.
If you're a true rock collector, you'll definitely want to shop the high-end rock and minerals in the gift shop for sale.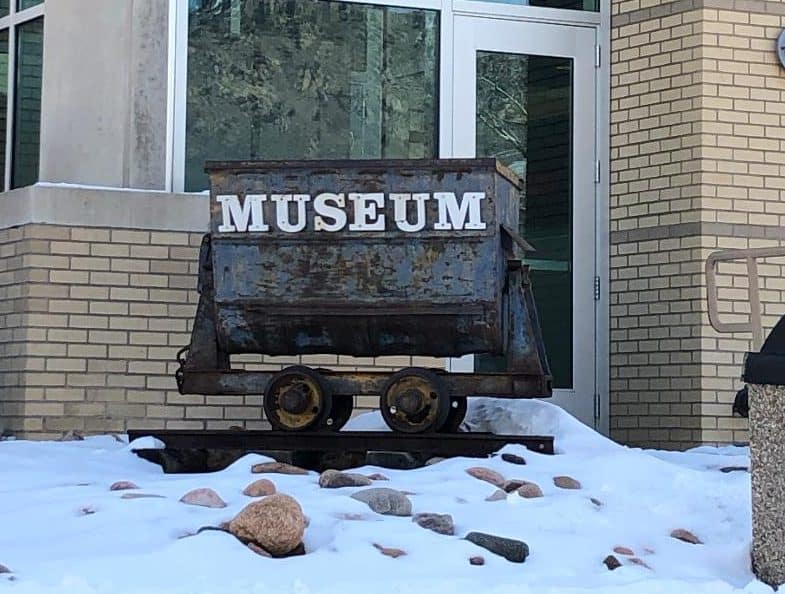 Admission is FREE. The Museum is open Monday through Saturday from 9 a.m. to 4 p.m. and Sunday from 1 p.m. to 4 p.m.
Be warned, parking is a rocky experience. It's difficult to find street parking, as it's located on a college campus and many parking spots require a permit. There are six fee-based visitor parking spots and two handicapped spots outside of the main museum entrance (the south side of the GRL building).
Additional fee-based parking is available in the garage on the south side of the museum building. You must pay to use ANY visitor parking space using the kiosk outside the museum. Visitor parking spaces will appear in purple sections on the campus parking map. For more details about parking, click here.
Mines Museum of Earth Science, 1310 Maple St., Golden, 303-273-3815.
Open Monday to Saturday, 9 a.m. to 4 p.m. Sunday, 1 p.m. to 4 p.m. Closed 4th of July, Christmas Day and New Year's Day.
Admission FREE