All aboard! The Colorado Railroad Museum is bringing back Denver Metro's largest and most colorful festival of operating trains on Saturday & Sunday, May 14 & 15, 2022. "Colorado Crossings" features two coal-fired narrow-gauge locomotives under steam plus three "Galloping Geese" in operation. These beloved self-propelled rail cars once carried mail over Lizard Head Pass in southwest Colorado.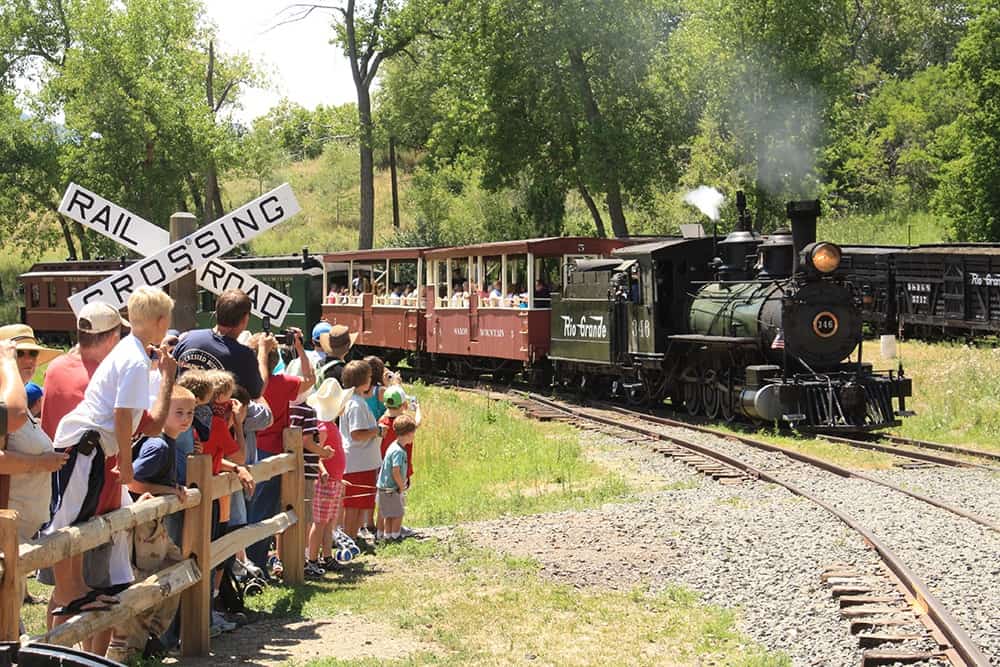 Colorado Crossings activities include:
Rides on a steam train pulled by Rio Grande Southern No. 20 (a vintage 1899 locomotive that just completed a $2 million, 14-year restoration in 2020) or in Rio Grande Southern "Galloping Goose" railcar No. 7.
A "Parade of Geese and Steam" that will include three Rio Grande Southern "Galloping Geese" railcars, Nos. 2, 6, and 7, all built in Colorado in the 1930s (only seven Galloping Geese were ever built), plus 1899-vintage Rio Grande Southern steam locomotive No. 20 and 1928-vintage Denver & Rio Grande Western steam locomotive No. 491. For rail photo buffs, this will be the very first time in the museum's history that such an impressive parade of vintage railroad equipment has been offered.
Indoor and outdoor model railroads, including a giant G-gauge outdoor garden railroad complete with buildings, tunnels, trestles and miniature live trees.
Opportunities for kids and adults to step aboard rail cars and cabooses, ring locomotive bells, and see more than 100 locomotives and cars on display.
Turntable demonstrations will be ongoing each day, allowing visitors the chance to push a full-sized railroad turntable by hand.
Roundhouse tours will allow visitors to see Denver & Rio Grande Western No. 491 up close and under steam. This is the largest operating coal-fired, narrow-gauge steam locomotive in Colorado.
Two new exhibits, one focusing on the Pullman Company and its legacy, the other highlighting how communications on the railroad were done "Without Words."
Demonstrations by a blacksmith forging tools and trinkets from railroad spikes.
A "Big Boy of a Used Book Sale" with hundreds of used railroad books available at bargain-basement prices.
Museum mascot, Spike the dog, will also be on hand this weekend for photos and selfies!
Food, beverages and treats will be available for purchase both days. Come join the fun!
Colorado Crossings Schedule of Events:
On both Saturday & Sunday, May 14 & 15, 2022
Museum grounds open from 9 a.m. to 5 p.m.
Parade of Geese and Steam starts at 9:30 a.m.
Train rides pulled by Locomotive No. 20 or aboard Galloping Goose No. 7, 10 a.m. to 3 p.m., with departures every half hour
Blacksmith demonstrations, roundhouse tours and activities ongoing from 10 a.m. to 3 p.m.
Event Admission
Regular Museum Admission is $10 adults, $8 seniors, $5 ages 2 to 17, Museum Members and under age 2 free.
Train Rides are an additional $4 adults and seniors, $2 ages 2 to 17, Museum Members and under age 2 ride free.
Museum Grounds and Train Ride capacity are limited for ongoing guest comfort and safety, so advance purchase of admission and train ride tickets is strongly recommended.
Tickets are on sale now. You can find them here.
Colorado Railroad Museum
17155 W. 44th Ave.
Golden, CO 80403
303-279-4591