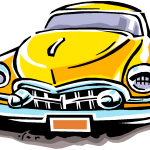 The Vintage Car Club of Castle Rock brings its array of vehicles to downtown Castle Rock during the Castle Rock Car Show Weekend on Friday & Saturday, June 16 & 17, 2023. Things kick off on Friday from 6 p.m. to 9 p.m. with a free concert by the Cari Dell Trio and a variety of cars on display. On Saturday, festivities run from 10 a.m. to 3 p.m. and include more than 300 vintage and unique cars.
There's also live music, food trucks, beer and family games for all.
Street vendors will be on hand, and downtown shops will offer deals and discounts.
The FREE event is at Wilcox Square on Wilcox St. between 3rd and 5th Streets.
Best places to park are The Town of Castle Rock parking lot at the corner of South St. & Perry St. or the Miller Library lot at the corner of Wilcox St. & Phelps St.