While the winner of our Elitch Gardens' Luminova ticket giveaway was chosen at random, readers shared lots of great tips on how to save money during the holidays. (Congratulations, Eric M. We hope you have an illuminating night!) From the beginning, the best source for information has always been our loyal readers.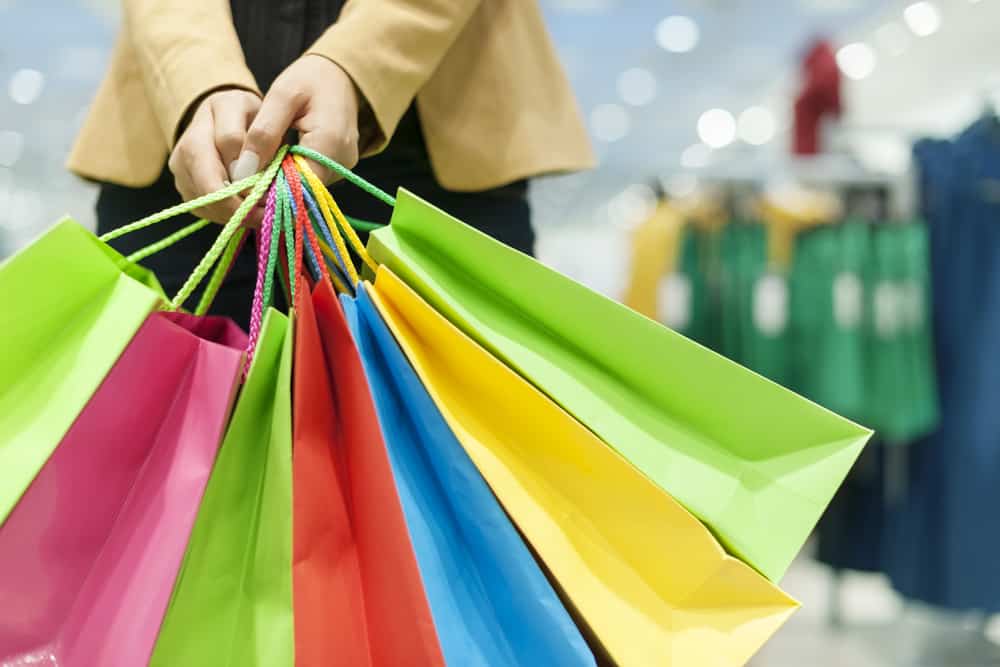 Whether it's telling us about a great sale, low-cost event or even pointing out an error, readers have always had our back. There's no question, MHOTC readers are smart, insightful and always willing to help.
That's why we went through all of the comments and thought we'd share some of the best tips from readers on saving money during the holidays. In addition, we expanded on the tips by adding our own MHOTC advice — from years (and years) of being a diehard bargain hunter.
Comments may have been edited for space, clarity and/or grammar.
#10 – Recycle & Reuse
"Keep the gift bags you receive presents in to use next year." – Ana T.
We think this tip works for every holiday or birthday celebration.
Why pay for a gift bag, when you can just reuse one from a gift you've received? Gift bags can cost just few bucks to the more expensive ones (think Papyrus!) at $6 to $8 each.
In any case, buying gift bags is really a waste of money because they're usually just tossed in the trash. It makes sense to give them a second life for the good of both your budget and the environment.
Best of all, they're super easy to store and don't take up lots of space.
#9 – Homemade Gifts
"Make homemade gifts." – Laura V.
This is classic go-to tip every holiday season. Take one of your passions, such scrapbooking, knitting or baking, and make homemade gifts for your loved ones.
Knowing the time and effort you put into knitting that scarf or baking your "world famous" banana bread makes the gift extra special. Plus, it's a unique gift that you can't find on any store shelf.
#8 – The Gift of Time
"We don't do presents. We give our time to each other by offering babysitting, house cleaning or something that helps them in some way." – Jayne W.
Be creative. The holidays don't always have to be about material goods. The gift of time is often more precious.
Taking on a task for someone gives them the freedom to relax and take a much-needed break from the many stresses of everyday life.
#7 – Plan Ahead
"My best tip for Christmas would be to put aside money each month leading up to December." – Monique C.
The holidays are no secret. We all know exactly when they occur every year, so you can (and should) be prepared by creating your own "holiday savings account."
Start with an envelope marked "Holidays 2022" and, each month, tuck in a set amount. Just $20 a month will leave you with $240 to spend at the end of the year.
Go bigger and the results are even more spectacular — $50 a month will get you $600 to enjoy over the holidays.
The trick is to set the money aside and never touch it, unless you absolutely have to for an emergency. The system also works for any other annual celebrations, namely birthdays.
If you put $10 away every month for a loved one's birthday, you'll have $12o to spend on a gift or dinner.
#6 – Shop Around
"Look for the best deals out there. Shop at different places." – Valerie
Always, always compare prices. Don't buy your holiday gifts or accessories at the first place you stop.
Thanks to technology, comparing prices is much easier nowadays. A quick search online will save you lots of time and gas.
Plus, it's important to know if your favorite store price matches. Many businesses will honor prices found at one of its competitors, including online retailers.
Just stop at the customer service desk to inquire about the store's price-matching policy. A few minutes could save you lots of money and time running around.
#5 – Shop Clearance
"My tip is to buy clearance items throughout the year at Walmart and Target." – Tamara
No one says gifts have to be full-price. The recipient doesn't know how much you paid for an item. All they know is that you thought about them and that's really all that matters.
Therefore, being a "good gift giver" doesn't mean you have to be extravagant. And that's where one of the best sources for saving money on gifts are the clearance aisles and bins.
Two of the best places for huge markdowns are Target and Walmart. You can often find items at 50% to 90% off. The trick is that you have to check the clearance every time you shop, so you never miss out on the latest markdowns.
Once you've found the perfect gift, you may want to put a sticky on it and make a note in calendar, so you don't forget it's in your stockpile.
#4 – Budgets Matter
"My tip is to set a budget, stick to it and, no matter what, don't go over it." – Stephanie E.
This tip requires a little self-discipline and control. It may be an easier challenge for seasoned bargain hunters.
The holidays are all about impulse shopping and stores want you to buy all of the shiny, sparkly packaging. However, with a strict budget and lots of focus, you can stay on track.
Know your budget limits and make a list. Don't overspend and regret it later when all of the bills starting hitting your inbox in January.
#3 – Go Plastic
"We buy gift cards for places we go throughout the year and enjoy the holiday bonus." – Stacy
If you have the extra money in your budget, we absolutely love this tip.
Just about every restaurant and some retailers offer a gift card bonus during the holidays, so now's the time to take advantage of all the "bonus cash" on the table.
If your family already frequents a particular restaurant often, why not "pre-pay" for meals in 2022 and enjoy FREE food in the process.
The only drawback is that many of the bonus offers have restrictions, including specific dates for redemption. As a result, be sure you have the time to use the bonus offers before investing in lots of gift cards.
#2 – The Day After December 25
"The best tip is to wait until December 26 for big mark down prices. Buy next year's gifts for all occasions." – Tom L.
The early bird gets the savings. And you can't get any earlier than the day after Christmas.
Every bargain hunter knows this is one of the best tips of all. Wait until December 26 and head to all of the big box retailers and drug stores for huge discounts.
The discount usually starts at 50% off. However, if you can wait even a few more days, you can often find holiday clearance at 75% to 90% off.
The trick is to search for all of those gift sets (especially perfume, cologne, beauty and grooming) that can easily be repackaged for just about any holiday or special occasion, including birthdays.
#1 – You Know The Answer!
"The best way to save is to read the MHOTC newsletter every day for great deals and free holiday activities!" – Deb
Of course, the best tip of all is checking MHOTC every day. As we head into our (lucky) 13th year in 2022, we are grateful for your support and loyalty. The only way we can grow is through word-of-mouth from our best ambassadors — you!
The more you tell friends, family and co-workers about the benefits of following MHOTC, the more we can succeed in reaching more people, getting more views and attracting bigger advertisers.
Thank you for sharing your great tips and your support throughout the year!