Downtown Boulder is the site of the city's popular summer music series. Bands on the Bricks. It takes place every Wednesday evening from 5:30 p.m. to 9 p.m. June 15 through August 3, 2022 with rock, reggae and everything in between. Opening acts take the stage at 6 p.m. Headliners go on at 7 p.m.
Here's the 2022 Bands on the Bricks line-up:
June 15 — Hazel Miller & The Collective
June 22 — Saritah
June 29 — Chimbangle
July 6 — The Long Run
July 13 — Titonic
July 20 — The Coffis Brothers
July 27 — Chain Station
August 3 — The Goonies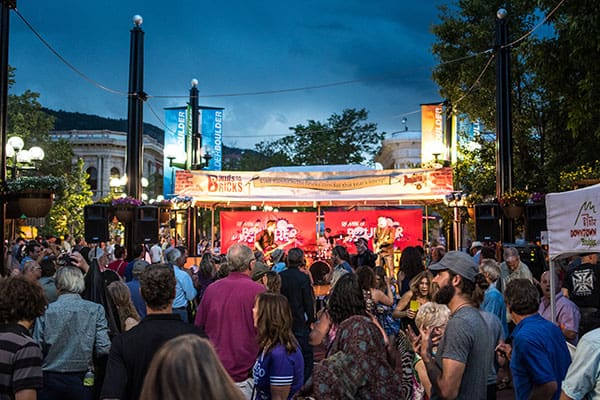 The event features a large outdoor beer/wine/margarita garden opening at 5:30 p.m.
Festivities take place on the plaza in front of the courthouse in the heart of Boulder's Pearl Street Mall, between 13th and 14th Sts., Boulder.
For more information, call Downtown Boulder at 303-449-3774. For more musical events, check out our Mile High Summer Concert Guide.
More Summer Music