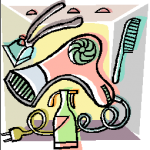 It's been quite some time, since Great Clips has offered a discount. And, for those bargain hunters looking to trim their grooming budget, this sale is a cut above the rest! From Friday, October 23 to Sunday, October 25, Great Clips is holding its very popular "Great Haircut Sale." The shop is cutting the price of a basic haircut to just $8.99 — a savings of more than 45%. (A regular haircut is $16.99 at most locations.)
Participation may vary, as locations are independently-owned.
In the past, the promo has been available at most, if not all, locations. However, it's probably best to call ahead for confirmation.
When the sale is on, the salon is always very busy. Therefore, you may want to use their convenient online check-in to reduce your wait time and stress.
IMPORTANT: Our team was unable to confirm how widely available this late-October sale may be in the Denver metro area. As a result, please contact your neighborhood location to confirm participation, before visiting. Not all locations may be participating.