Sit back and get all of your last-minute holiday shopping done right from your couch! Even better, you can pocket lots of savings sure to keep you jolly. Gift cards are always popular during the holidays. It's a quick and easy option for the giver. And, on the other side, it gives the recipient the opportunity to pick out exactly what they want from a favorite retailer…or enjoy a favorite dish. It's a win-win for all.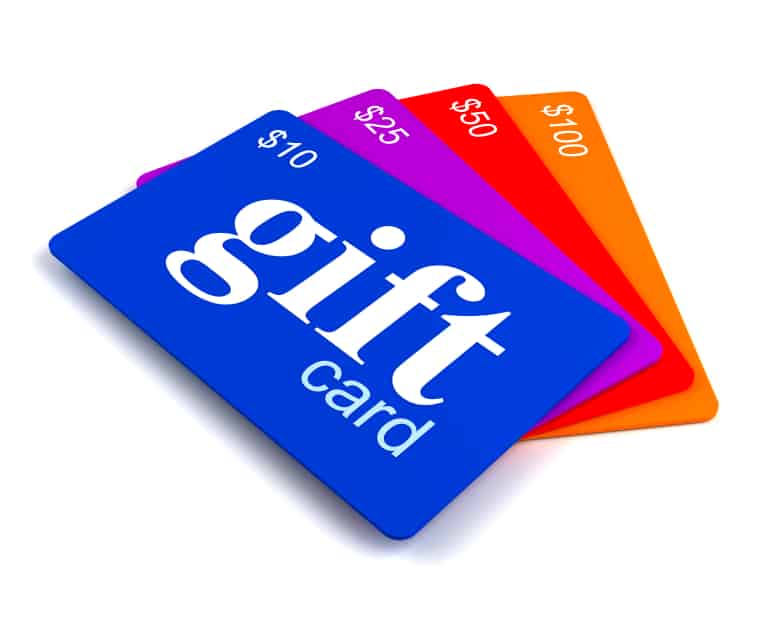 Thanks to Kroger (the parent company of King Soopers), online shoppers can enjoy lot of last-minute gift card bonuses from many popular retailers and restaurants through December 25.
The bonus offers are only available online, while supplies last.
Limits and restrictions may apply. Please review terms and conditions for each offer.
BONUS: Plus, if you're a King Soopers customer, you can still earn fuel points on your shopper's loyalty account — just be sure you're logged into your account before purchasing any gift cards.
Here's what's available:
Get 10% off on a $250 Lowe's eGift Card
Receive a $25 Kroger Family of Stores gift card, when you purchase a $200 Airbnb eGift Card
Get $10 off a $50 DSW eGift Card
Get $5 off a $50 Kohl's eGift Card
Get a $7.50 bonus, when you buy a $50 Bath & Body Works eGift Card
Get a 10% bonus, when you buy a $25 Starbucks eGift Card
Get $10 off a $50 Gap Options eGift Card
Get a $7.50 bonus, when you buy a $50 Happy Holidays eGift Card
Get a $7.50 bonus, when you buy a $50 Groupon eGift Card
Get a $5 bonus, when you buy a $25 Vudu eGift Card
Get $10 off a $50 Red Robin eGift Card
Receive a $10 Kroger Family of Stores eGift Card, when you purchase a $100 Uber eGift Card
Get $10 off a $50 IHOP eGift Card
Get $15 off a $100 Ace Hardware eGift Card
Get a $5 bonus, when you buy a $25 Sportsman's Warehouse eGift Card
Get a $10 bonus, when you buy a $50 Chili's eGift Card
Receive a $15 Kroger Family of Stores eGift Card, when you purchase a $100 Hulu eGift Card
Get a $5 bonus, when you buy a $50 Nordstrom eGift Card
Get $10 off a $75 Topgolf eGift Card
Get 15% off a $100 Big Lots eGift Card
Receive a $15 DoorDash eGift Card, when you purchase a $100 Playstation eGift Card
Receive a $10 Kroger Family of Stores eGift Card, when you purchase a $100 Delta Air Lines eGift Card
Get $10 off a $50 Home Chef eGift Card
Get 10% off a $200 Hotels.com eGift Card
Receive a $10 Kroger Family of Stores eGift Card, when you purchase a $50 Sling eGift Card
Get a $5 bonus, when you buy a $25 Fandango eGift Card
Get 50% off a $50 JTV eGift Card
Get a $10 bonus, when you buy a $75 Academy Sports + Outdoors Gift Card Gift Card
Receive a $15 DoorDash eGift Card, when you purchase $100 in Nintendo eGift Cards
Receive a $15 DoorDash eGift Card, when you purchase a $100 Roblox eGift Card
Receive a $15 DoorDash eGift Card, when you purchase a $100 XBOX eGift Card
Get $5 off a $25 White Castle Gift Card
Receive a $10 Kroger Family of Stores eGift Card, when you purchase a $50 Valorant eGift Card
Get $10 off a $50 Spafinder eGift Card
Receive a $10 Kroger Family of Stores eGift Card, when you purchase a $50 League of Legends eGift Card
Get a $7.50 bonus, when you buy a $50 YAY YOU! eGift Card
Get $10 off a $50 Aeropostale eGift Card
Get $15 off a $100 Virgin Experiences eGift Card