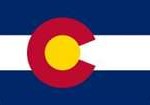 The stately Governor's Residence at the Boettcher Mansion is open for FREE holiday tours from noon to 3 p.m. on Saturday, December 3 and Sunday, December 4, 11 & 18, 2022. The tour of the entire main floor includes a peek at the Great Hall and the State Dining Room among others.
The red brick, Colonial Revival style mansion was built in 1908 and purchased in 1923 by Claude Boettcher. The Boettcher family later donated the house to the city. It has been decorated inside and out for the holidays.
The theme for 2022 is "Shiny and Bright."
The display features several donated vintage Christmas trees, a Gold Star tree honoring service members who have died in the line of duty, and an observance of Hanukkah.
Entry is at the Residence's main entrance at 400 E. 8th Ave.
Please anticipate a line for entry shortly before noon, and please plan to arrive at the Residence for each tour no later than 2:30 p.m. in order to enjoy the full experience provided by volunteer docents with History Colorado.
To sign up for the holiday tours, please click here to register.
400 E. 8th Ave. (at Logan St.) Denver.
More Holiday Fun
Monday, December 4, 2023
Tuesday, December 5, 2023
Wednesday, December 6, 2023
Thursday, December 7, 2023
Friday, December 8, 2023
Saturday, December 9, 2023
Sunday, December 10, 2023