It's a new year and Amazon is welcoming in 2023 with some special deals. One that caught our eye is for P&G items. Instead of fighting the crowds at some of the warehouse or big box stores, you can order from Amazon and have everything delivered to your home. Purchase $80 of participating P&G items, and you'll get a $20 Amazon.com credit.
Here's how it works:
Just add $80 worth of items from this page to your cart. You should see the offer automatically applied at checkout, if eligible.
Many of these items are everyday products that you'll use (although in a larger quantity.) Stock up, get with some pals, or buy extra for a local nonprofit!
There has been some confusion about this deal. It's important to note that you should NOT add a promo code. That's not necessary and you'll get a message saying that it's expired. Just go to this link, add $80 of eligible products. If you see this screen, then the promo has been added.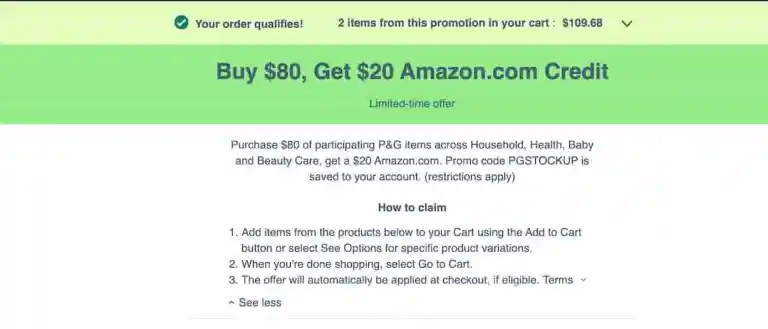 You should get an email from Amazon when your order ships, saying that you have the credit. Then the next time you order products from Amazon, it should get applied to your order. It will only apply to products from Amazon, not from third party sellers. And it expires at the end of 2023.
Some Eligible P&G Items