If you've followed Mile High On The Cheap for any amount of time, you know we love the movies! And, with every movie theater closing, many film fanatics (including us!) miss the darkened theater, the smell of fresh popcorn in the air and watching the latest flick on the big screen. There's nothing like laughing, screaming and crying with fellow movie-goers. It's definitely a communal experience. With summer blockbusters on the horizon, cinephiles everywhere are wondering, "When will movie theaters reopen and how?"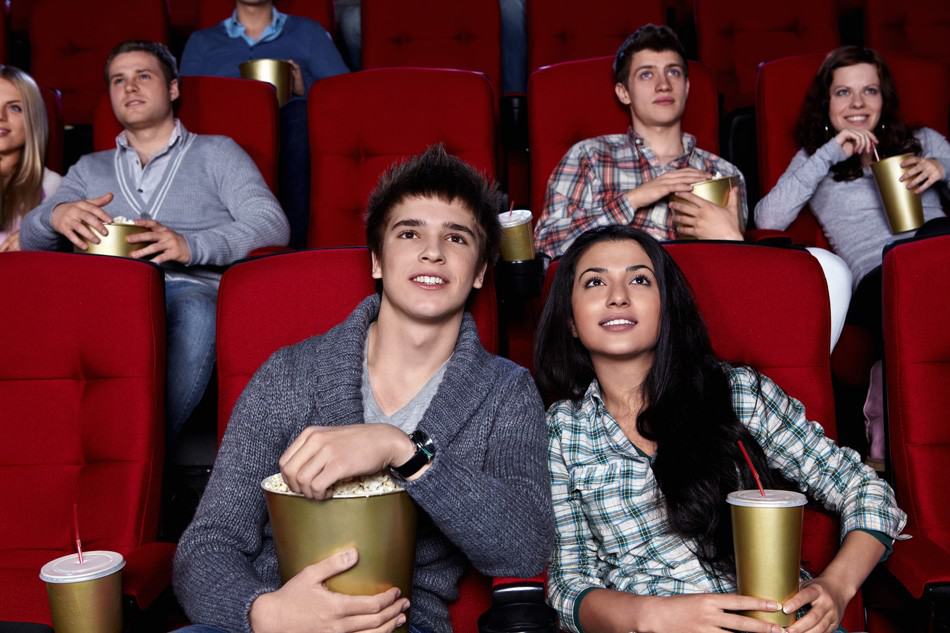 According to Yahoo Entertainment, "There's been an unofficial pact formed by movie theaters, complexes and chains nationwide to re-open for business in time for the release Christopher Nolan's highly anticipated July 17 thriller Tenet, with major releases like Mulan (July 24) and Wonder Woman 1984 (August 14) to follow shortly thereafter."
That's good news, but going to the movies will probably be a whole different experience than what we've been used to for years and years.
Here are some of the changes expected:
Limited Capacity — Many chains are expected to limit the capacity of each screening to probably 25% to 50%. The final number of audience members will depend on the size of the theater and type of seating.
If you go the movies on a regular basis, you already know that most screenings were never packed anyway. With the exception of the opening weekend for a blockbuster, most screenings were probably already at 20% capacity or so — sometimes, even less. As a result, this new rule shouldn't be a huge challenge.
Distant Seating — Once you're in the actual theater, how will everyone be seated, while still maintaining proper social distancing? It's expected that a certain number of seats will be between patrons.
The big questions are how many seats will be available for a particular screening and will friends and family be allowed to sit together.
A six-foot space between audience members is probably three to four seats in a typical theater. However, with the recent onset of luxury seating at many movie theaters, the distance may only be two or three because those comfy seats are much larger.
And, then, there is the question of rows. You certainly can't have people sitting directly in right in front or behind you because you'd only be a few feet apart.
As a result, you can basically expect the theater to look much like a checkerboard with every other square being empty.
Alternative Ticketing — Everyone is already used to buying tickets online and this will probably be the norm moving forward. The objective is remove the need for an usher to handle your ticket.
In addition, you may find a self-service kiosk rather than a box office or ticket taker. Some locations already had these kiosks in place.
The challenge will be for those that don't own a smartphone. Without one, purchasing and redeeming tickets digitally would be impossible. Some moviegoers may still have to print tickets at home, prior to heading to the movies.
And bargain hunters know about (and despise) the pesky fee for purchasing tickets online. However, if movie theaters are requiring patrons to purchase tickets online, will there still be a fee?
We think they should eliminate the fee or drastically reduce it. Yes, it may only be a few bucks, but it adds up quickly. Otherwise, the fee is just one more incentive to stay home and watch movies on the couch.
Concession Changes — You can't go to the movies without munching on popcorn and candy. However, the concession stand will definitely look and feel different.
First, expect to find markings on the floor of where to stand in line — just like every store now. Plus, get your credit or debit card ready, as many theater chains are, more than likely, going cashless.
With some online ticket sales, you could already pre-order concessions before the virus. This option may expand to more chains — just pay for tickets and popcorn all at the same time.
As for the all-important snacks, the experience will probably be similar to ordering take-out. Expect employees to be wearing masks and gloves, as they serve popcorn, drinks and candy — all from behind a plexiglass window.
Luckily, most of candy is already prepackaged at the concession stand, but expect more items to be prepackaged (including nachos, pretzels and hot dogs.) The goal is to limit how much your food is being handled or touched by others.
Finally, you can forget about self-serve drink stations, butter and condiments. Because so many people touch these areas and items, they are all at a higher risk for spreading germs.
Plus, they're a huge challenge to keep clean. You'd basically have to wipe down the area, after each patron — simply an impossible task.
You may have to go the counter for drink refills, extra butter or more mustard packets for your hot dog.
If you're still cautious about going to the movies, there are a few options for enjoying new flicks…
Video On Demand (VOD) — Many studios are looking at streaming new releases, in addition to screening them at the theater. Or, in some cases, releases them strictly on VOD.
This was the case For Trolls World Tour and, based on sales, the "box office" was a success. However, many families were shocked at the rental price of $19.99.
Everyone is used to renting movies only for $5 or $6 online, but this was a new movie scheduled for a theatrical release. Hence, the bigger rental price. (Universal was not trying to gouge parents, as many expressed on social media. They were simply switching strategies to accommodate demand and also make money. They are a business, remember.)
If you do the math, it was actually a great deal. Had you taken a family of four to see Trolls World Tour in a theater, you would have easily spent around $40 to $50 for tickets alone and for only one showing.
With the rental, you could watch the movies as many times as you wanted in a 48-hour period. (And parents know kids can watch a flick on repeat!) That right there is a huge bonus — multiple screenings for the same price.
Even better, you only paid $5 "per ticket" for each of the four family members. Basically, half the price of what you would have paid at the box office.
And, if you had more than four people watching, you really saved big bucks. And, finally, you saved money by enjoying your own snacks at home and not at the concession stand.
Many people are turned off at the high price point for new releases on VOD. However, it's actually saving you money because the number of people watching the movie is unlimited and you can watch it multiple times over a two-day period.
It's all a matter of perspective. Bargain hunters may need to get used to the new format and pricing of new releases available VOD because many industry insiders believe it may be the future of movies.
Drive-In Movies — Everything old is new again. If you've ever enjoyed the experience of going to the drive-in movies, it may become the new standard for summer blockbusters again.
The drive-in experience easily meets all the needs of social distancing, so we may see a resurgence in the popularity of drive-in movies this summer.
Right now, there's only one permanent drive-in in the Denver metro area — 88 Drive-In Theatre in Commerce City. The owners have yet to announce plans for summer 2020.
And, then, there's also the annual summer pop-up drive in at Denver Mart. The drive-in opens May 22.
If plans evolve for many outdoor summer movie series, we might see more pop-up drive-ins at various parks and parking lots around town.
And readers are all wondering, "What about sneak previews?"
We've been in contact with our movie reps and, right now, there are no specific plans for when or how sneak previews will happen again. As noted previously, movies are expected to start hitting the big screen again in late July, but sneak previews are still in question.
If you've ever been to a sneak preview, you know how it all works with seating. The goal is to get every seat filled. That's why they always overbook the passes, to ensure there are no empty seats. However, with the new safety guidelines, you simply can't have a full house anymore.
Plus, there are regularly crowds of people waiting in line (often, for a few hours) just to get into a preview. This will also present a social-distancing issue
The whole process will undoubtedly under go some major changes. Exactly how? We don't know yet. Rest assured, once we know when sneak previews are expected to return and how, we will keep you in the loop.