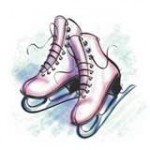 Unfortunately, the ice skating rink will NOT operate in 2020. FREE ice skating returns to downtown Denver's Skyline Park for another winter as the Downtown Denver Rink welcomes locals anxious to lace up some blades from November 26 to February 16, 2020. Hours vary, so check the rink's website. Bring your own skates or rent a pair — $7 for kids (12 & under) and $9 for everyone else (13 & older.)
Major Waddles, the Parade of Lights mascot, will be visiting the Downtown Denver Rink to skate, play and take photos on November 30 and December 7. Plus, Santa Claus will make a few special appearances. Check the rink website for details.
If you like a little music with your ice skating, visit every Friday night from 7 p.m. to 9 p.m. to skate to the tunes of some of the hottest DJ's in Denver.
16th and Arapahoe Streets next to the landmark D&F Clocktower.
More Festive Fun
Saturday, October 23, 2021
Sunday, October 24, 2021
Friday, October 29, 2021