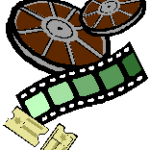 In this one, there will be zero F's given. Just in time for the holidays, 20th Century Fox presents Once Upon A Deadpool, a PG-13 version of Deadpool 2, coming to theaters for a limited time this holiday season. For every ticket sold, $1 will go to the charity Fudge Cancer, who have graciously changed their name to be more PG-13 friendly for the special 12 day release.
MHOTC readers are invited to a special advance screening on Tuesday, December 11 at 4 p.m. (note the earlier time) at UA Colorado Center. To get your admit-two pass, go here. Passes are limited and when our allotment has been filled, the system won't issue any more.
Remember, passes do not guarantee admission. Preview screenings are always overbooked to ensure a full house, so arrive early.