Today is the last day to get a bonus for most holiday gift card offers! Once again, gift cards are at the top of many people's holiday wish list and we have a long list of gift card bonus offers for 2020. According to the National Retail Federation, six in 10 consumers have gift cards on their shopping list. It's estimated retailers will sell more than $30 billion in gift cards, this holiday season.
There's something about being able to splurge on exactly what you want that's fun, right? In the past, gift cards seemed impersonal. Not anymore. Recipients can pick out exactly what they want or enjoy their favorite meal. No need to return anything. It's a win-win for everyone!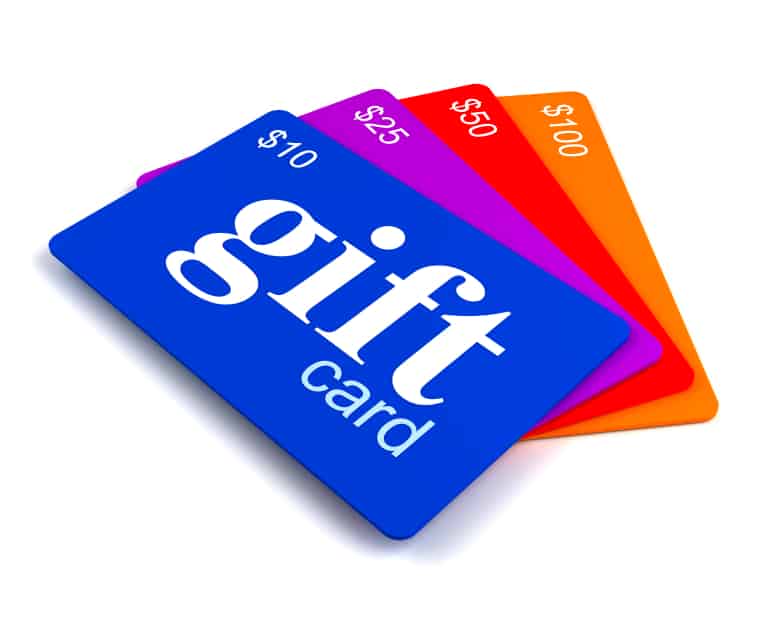 Gift cards are always an efficient and convenient way to shop for the holidays. Best of all, it pays to give gift cards because of the bonus offers, this time of year. Treat yourself and keep the bonus offer or tuck it in with the gift card for an added surprise.
Most of the gift cards must be purchased by December 31, in order to receive the bonus. However, some bonus offers end earlier, so check first.
It's important to note that most of the offers are for "bonus cards" — not gift cards. As a result, review the fine print for limitations, including any minimum purchase requirements, date restrictions and/or menu exclusions.
Most bonus cards are not valid until January 1, 2021.
Bonus offers and redemption are valid at participating locations only.
We'll keep updating, so be sure to check this list often for the latest offers.
MHOTC Tips:
Who says gift cards have to be gifts? If your favorite restaurant or business is offering a gift card bonus, "pre-pay" for goods and services now and "gift" yourself the bonus. It's one of the easiest ways to stretch dollars you were going to spend anyway.
You can also get more bonuses by breaking down a large, single purchase. For example, if the bonus is for a $25 minimum gift card purchase and you're buying a $50 gift card, why not purchase two $25 gift cards in separate transactions instead?
You just doubled your bonus! However, many businesses give you a bonus for every gift card purchased at a specified amount. As a result, there's no need for multiple transactions.
Some bonus offers are available online or in-store only — while others are available both online and in-store.
However, check first, especially if you're ordering gift cards online. Once you hit "buy", you may be out of luck.
As always, clarify any details first before purchasing, especially because gift cards are typically non-refundable.
Look out for double bonus offers on Black Friday and/or Cyber Monday. It's one of the best times to purchase gift cards because the bonus may be at its best.
Please credit MileHighOnTheCheap.com, if you publish or publicly share our round-up.
Restaurant/Business – Minimum Gift Card Purchase = Bonus Offer
Applebee's – $50 = $10 Bonus Card
Arby's – $25 = FREE sandwich
Benihana – $50 = $10 Promotional Card / $200 = $60 Promotional Card / $400 = $120 Promotional Card
BJ's Restaurant & Brewhouse – $50 = $10 Bonus Card / $100 = $25 Bonus Card — plus 20% Off VIP Card
Bonefish Grill – $50 = $10 Bonus Card
Bruegger's Bagels – 20% off all plastic and digital gift cards purchased online
Bubba Gump Shrimp Co. – $50 = $10 Reward Card
Buca di Beppo – $50 = $10 Reward Card
Carrabba's Italian Grill – $50 = $10 off
The Cheesecake Factory – $25 = FREE slice of cheesecake or layer cake
Children's Place – $50 = $10 Bonus Card / $75 = $15 Bonus Card / $100 = $20 Bonus Card
Chili's – $50 = $10 Bonus Card
Cold Stone Creamery – $50 = $15 Bonus Card
Del Taco – Online – $30 = FREE small combo meal coupon / $100 = Four (4) FREE small combo meal coupons
In-store – $15 = Two (2) FREE grilled chicken tacos / $25 = Four (4) FREE grilled chicken tacos
DSW (Designer Shoe Warehouse) – $50 = $10 Bonus Card, $100 = $25 Bonus Card
Einstein Bros. Bagels – 20% off all plastic and digital gift cards purchased online
El Five – $50 =$10 Bonus Card / $100 = $20 Bonus Card
Fazoli's – $20 = $5 Bonus Card
Firehouse Subs – $25 = FREE medium sub voucher (The bonus offer is valid in-restaurant from December 18 to 31.)
First Watch – $100 = $20 Bonus Bucks
Fleming's Prime Steakhouse – $100 = $20 Bonus Card
Flower Child – $50 = $10 Bonus Card
Fogo de Chão Brazilian Steakhouse – $125 = $25 Bonus Card / $300 = $75 Bonus Card / $400 = $100 Bonus Card
Fuzzy's Taco Shop – $25 = $5 Bonus Card
Garbanzo Mediterranean Fresh – $30 = FREE entrée
Hand & Stone Massage & Facial Spa – Buy-one-get-one FREE gift card — from November 27 to 29
Jamba – $30 = Two (2) $5 Reward Cards
The Kitchen American Bistro – $100 = $30 Bonus Card
Kona Grill – $50 = $10 Bonus Dollars / $100 = $25 Bonus Dollars
Linger – $50 = $10 Bonus Card / $100 = $20 Bonus Card
MAD Greens – $25 = $5 Bonus
Maggiano's Little Italy – $100 = $20 Bonus Card
Menchie's Frozen Yogurt – $25 = $5 Bonus Card
MOD Pizza – $50 = FREE MOD pizza or salad and Coca-Cola fountain drink
Modern Market – $25 = $5 Gift Card
Morton's The Steakhouse – $250 = $50 Reward Card
Noodles & Company – $25 = $5 Bonus Card
Ocean Prime – $100 = $25 Bonus Card Reward
Old Chicago Pizza & Taproom – $25 = $5 Bonus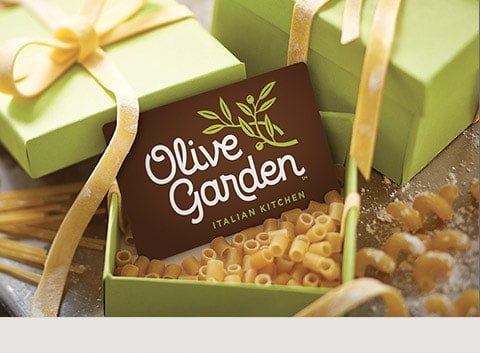 Ophelia's Electric Soapbox – $50 =$10 Bonus Card / $100 = $20 Bonus Card
Outback Steakhouse – $50 = $10 Coupon
Panera Bread – $50 = $10 Bonus Card
Patxi's Pizza – Spend $65 or more dine-in, takeout or by phone = FREE 10-inch thin crust pizza
Pei Wei Asian Kitchen – $25 = $5 Bonus Card
Perry's Steakhouse & Grille – $125 = $25 Reward Card
Red Lobster – $50 = Two (2) $10 Coupons
Red Robin Gourmet Burgers & Brews – $25 = $5 Bonus Buck Reward
Rock Bottom Restaurant & Brewery – $50 = $10 Bonus Card
Root Down – $50 =$10 Bonus Card / $100 = $20 Bonus Card
Rusty Bucket – $50 = $10 Bonus Card
Ruth's Chris Steak House – $250 or more = 10% Bonus
Salsa Brava Fresh Mexican Grill – $100 = $20 Gift Card
Seasons 52 – $100 = $20 Bonus Card
Shake Shack – $25 = FREE shake
Snarf's Sandwiches – $25 = $5 Bonus Card
Subway – $25 = FREE 6″ sub sandwich
Taco Bell – Online: $10 = $2 eGift Card / In-store: $10 = Two (2) FREE Seasoned Beef Crunchy Tacos
Tamayo – $100 = $20 Bonus Card
T.G.I. Friday's – $25 = $5 Bonus Bites
The Old Spaghetti Factory – $50 = $10 Voucher & FREE Dr. Pepper beverage
The Palm – $250 = $50 Reward Card
Torchy's Tacos – $25 = $5 Bonus Card
True Food Kitchen – $100 = $20 Bonus Card
Urban Egg – $100 = $20 Gift Card
Vital Root – $50 =$10 Bonus Card / $100 = $20 Bonus Card
Wendy's – $2 Frosty Key Tag = FREE Jr. Frosty every visit in 2021
Zoup! – $25 = $5 Bonus Card