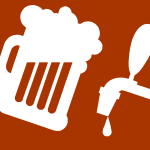 Visitors and locals alike can learn a lot about traditional brewing in a short time from one of Colorado's best. (Did you know they've been brewing beer since 1873?) The FREE 30-minute, narrated walk-through of the malting, brewing and packaging areas at the giant MillerCoors Brewery in Golden is a short course in beer production. After the tour, visitors 21 years and older (with ID) can sample some of the beers in the hospitality lounge.
Each brewery visitor receives a FREE Golden Ticket good for discounts from participating shops and restaurants in the downtown historic district. Brewery tours are offered in the summer (June 1 to August 14) Monday to Saturday from 10 a.m. to 4 p.m. and Sunday from noon to 4 p.m. and the rest of the year (August 15 to May 31) Thursday through Monday from 10 a.m. to 4 p.m. and Sundays from noon to 4 p.m.
Tours begin in the southeast corner of the visitor parking lot at 13th & Ford St. In addition, tours do not operate on holidays, so it's always best to call the tour hotline in advance (303-277-BEER or 800-642-6116) to confirm the schedule.
When
Weekly on Sunday @ 12:00 pm-4:00 pm (starting July 10, 2016)
What
Free Coors Brewery Tours
When
Weekly on Monday, Thursday, Friday, and Saturday @ 10:00 am-4:00 pm (August 9, 2018 - May 30, 2019)
What
Free Coors Brewery Tours