Music will still waft over the Pearl Street Mall this summer when Bands above the Bricks comes to you virtually from above the Mall. Listen in virtually every Wednesday evening starting July 15 — you won't want to miss a beat! Organizers will be live-streaming concerts of your favorite local artists from the rooftops of downtown Boulder. FREE direct links to the live stream on multiple platforms will be posted on the day of each show.
Bands Above The Bricks 2020 lineup
July 15 — The Long Run
July 22 — Foxfeather
July 29 — Hazel Miller and the Collective
August 5 — The Champions
#####################
Below is the 2019 information
Downtown Boulder comes to its popular summer music series. Bands on the Bricks takes place every Wednesday evening from 6 p.m. to 9 p.m. June 5 through August 7 with danceable music and a beer/wine/margarita garden featuring T/ACO and a local brewery starting at 5:30 p.m. Opening acts take the stage at 6 p.m. Headliners go on at 7 p.m. Here's the 2019 line-up: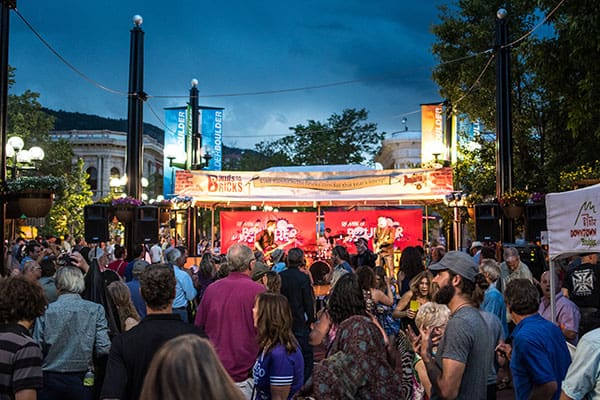 June 5 — The Champions
June 12 — The Long Run
June 19 — Pink Hawks
June 26 — Hazel Miller Band
July 3 — Bonnie and The Clydes
July 10 — The Sweet Lillies
July 17 — Policulture
July 24 — Jamiroqueen
July 31 — Groove a Licious
August 7 — That Eighties Band
Festivities take place on the plaza in front of the courthouse in the heart of Boulder's Pearl Street Mall, between 13th and 14th Sts., Boulder. For more information, call Downtown Boulder at 303-449-3774. For more musical events, check out our Mile High Summer Concert Guide.
More Summer Music