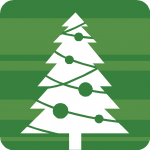 Nationally, approximately 93% of the real Christmas trees are recycled through community programs. Colorado is no exception with most cities and/or counties offering FREE Christmas Tree Recycle. Some programs have already started and run into January, with drop-off sites open various length of time, from the first week in January to as long as January 31.
A few municipalities offer curb-side pick-up, others ask you to take your tree to a drop-off site. There is no comprehensive site, but here are links to many Front Range programs.

Littleton is partnering with South Suburban Parks & Recreation to offer recycling at two locations from December 26 through January 12. Locations include South Suburban's Willow Spring Service Center (7100 S. Holly St. in Centennial) and Cornerstone Park (5150 S. Windermere St.).
Residents within the South Suburban Park and Recreation District can drop off their tree seven days a week from sunrise to sunset in Cornerstone's parking lot, adjacent to the soccer fields, or at the Willow Spring Service Center in the designated enclosure by the front gate.
Douglas County (including Parker, Castle Rock and Highlands Ranch) has a number of drop-off locations starting December 25 or 26.
Boulder County's Eco-Cycle has comprehensive guidelines for tree recycling in Boulder, Erie, Lafayette, Louisville, Longmont and Superior. Just print out its 2019 Holiday Guide.
Aurora has three self-service sites – Del Mar Park, Olympic Park and Saddle Rock Golf Course open December 26 to January 7. Please remove all nails, decorations and stands for the tree. Call 303-739-7177 for more information.
Denver Treecycle 2020 doesn't start until January 6.
Before you take advantage of a recycling program, please be sure to check with the recycler for important instructions about how to prepare your tree. It is important for the safety of the crews and machinery that all ornaments, lights, tinsel, nails, wire, garlands and stands be removed.
Many recycling programs cannot accept flocked trees. A good rule of thumb is to take your tree to the recycler in the same condition as you would find it naturally in the forest.