In the very near future, on a planet we are already on, Audacious Theatre presents a farce for all sci-fi fans to enjoy! "Space Conflicts: May the Farce Be With You" is an original comedic parody production that invites audiences to experience all their favorite tropes and running gags from the entirety of the Star Wars franchise.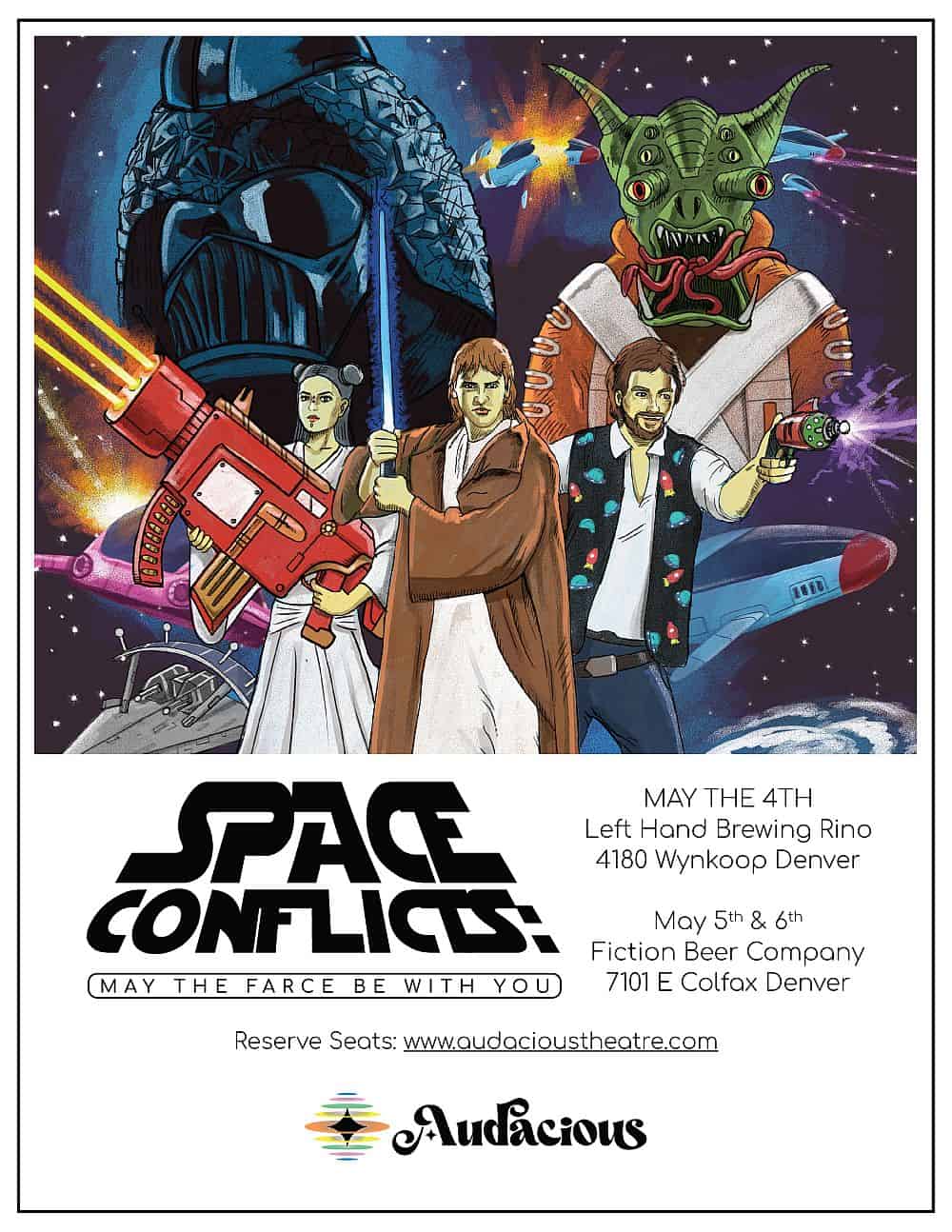 In this light, witty romp, local playwright Rebecca Gorman-O'Neill injects enough references and jokes from the last 50 years of pop culture to make nerds of all ages giggle.
Travel to the outer reaches of the galaxy to discover mystical space magic, know-it-all space wizards, and snarky, self-aware robots.
Similar to Audacious Theatre's hugely popular annual production of "Drunk Christmas," this interactive experience encourages audiences to become part of their favorite sci-fi fantasies.
You'll help the cast poke fun at the characters, laugh at ridiculous plot holes, and recall everything that makes these stories worth celebrating.
Purchasable interactive bags full of silly props will be available to all, and will serve to heighten all the fun Audacious has to offer in your sci-fi adventure!
Performances are at Left Hand Brewing (4180 Wynkoop St. #140, Denver) on Thursday, May 4 at 8 p.m. and Fiction Beer Company (7101 E Colfax Ave., Denver) on Friday & Saturday, May 5 & 6 at 8 p.m.
Tickets are Pay-What-You-Can for first-come, first-served seating or $15 for a Guaranteed Seat. You can get tickets here.
The show is suitable for all ages, but you must be 21+ to drink.