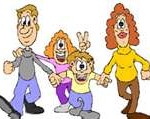 The Arvada Harvest Festival spans three days beginning Friday, September 7 from 5 p.m. to 10:30 p.m. and continues Saturday, September 8 from 9 a.m. to 10:30 p.m. and Sunday, September 9 from 11 a.m. to 7 p.m. The event is FREE and open to the public.
Activities include a Food Fair and Garden Harvest contest, live music, teddy bear picnic, spelling bee, more than 100 vendor booths, plus a Kid's Zone with arts & crafts.
"Celebrating the 60s" is the theme of the annual parade to be held Saturday starting at 9 a.m. in Olde Town Arvada. This is the second-largest parade in the state with thousands of participants including at least 11 marching bands. Olde Wadsworth Blvd. & 57th, Arvada.
More Fall Festivals