If you're looking to get out of the heat this August with some indoor fun, Archery Games Denver has got you covered. Their indoor arena in Arvada offers 75-minute sessions of Archery Dodgeball for ages 7+ and 60-minute sessions of Nerf Wars for ages 6+.
During the month of August only, Archery Games is offering an exclusive discount through MHOTC for 25% off public sessions with the promo code ONTHECHEAP.
Archery Dodgeball
Offered at only a few indoor arenas around the country, Archery Dodgeball is an adrenaline packed game that combines the rules of traditional dodgeball with foam-tipped archery.
Each session includes training on the practice range at the beginning, allowing those with no prior archery experience to participate and fully enjoy the activity.
Players are then led into the arena, where the games are led by an Archery Games host. While the basic goal of tagging opponents with the foam-tipped arrows remains the same, each game will feature a unique set of rules.
Each session starts with a warm-up game of Zombie, followed by a mix of game modes picked to best suit your group.
With bows for both kids and adults, Archery Dodgeball is generally suited for ages 7+.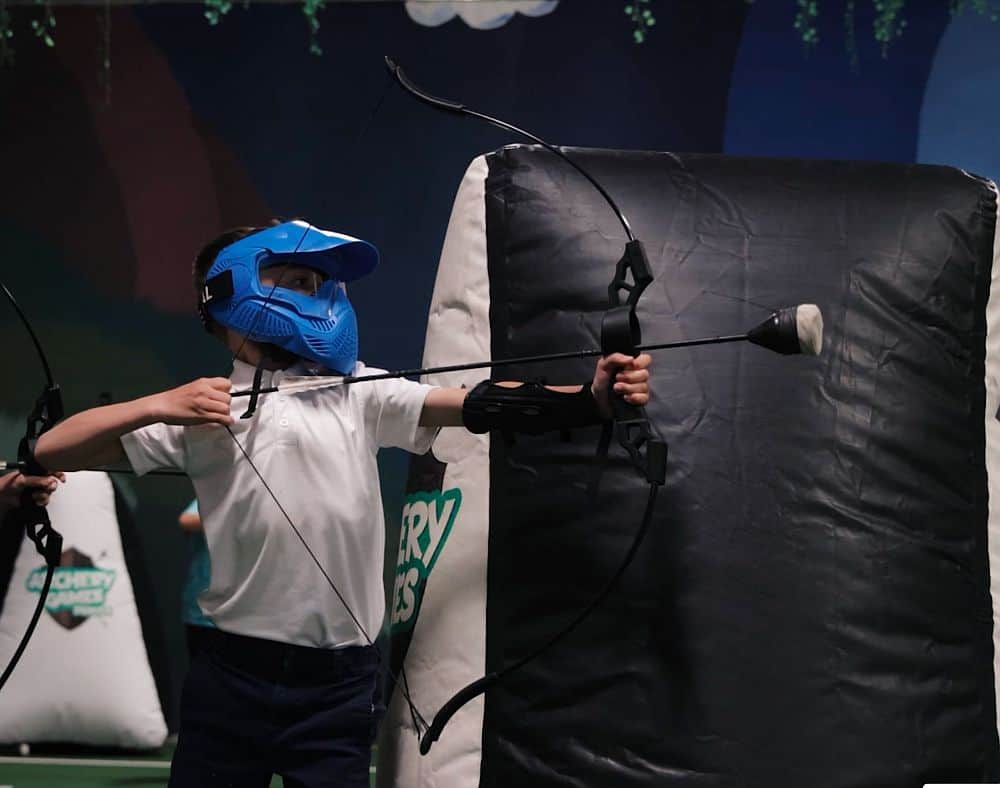 Nerf Wars
Nerf Wars at Archery Games have quickly become a favorite of local kids, since the activity was first added in 2020.
Archery games uses the Nerf Rival series of blasters and provides paintball-style helmets.
Sessions are one hour long and start with an introduction to the blasters.
After that, an expert host leads the kids through various game modes such as Kick the Can and Capture the Flag, Prison Break, Elimination, and others.
How to Book a Slot at Archery Games Denver
The facility is open Tuesday through Saturday for public sessions. Nerf Wars are not offered on Saturdays.
Reservations are required and you can book a time slot by visiting this link.
Remember to use code ONTHECHEAP for 25% off public bookings.
Each session accommodates up to 20 players. If you have less than six people in your group, it is recommended that you join with another group. Sessions that show less than 20 slots available have participants already booked slots into that session.
Feel free to call the facility at 303-305-4531 to find out whether the group will be a good fit for you.
You can also request to reserve an Archery Dodgeball session as "Adults Only" (Ages 16)+ or "Family Hours" (Ages 7+ and families), provided no one has already booked slots in that session.
5405 W. 56th Ave., Unit D, Arvada.