The Colorado Railroad Museum is now back on track and open to the public. Regular Admission prices once again apply, and train rides are available for an additional fee on selected days. There are some new procedures and operating hours. Here's what you need to know.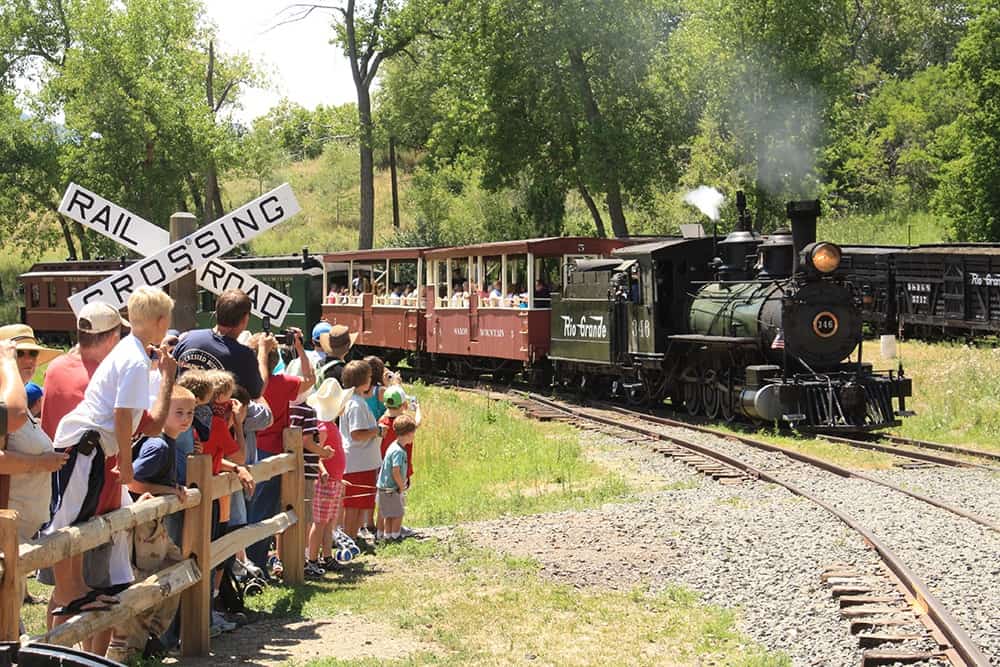 Mask Requirement
All guests and staff must have a mask in order to be granted entry into the Museum. If you do not have one with you, they will have limited quantities of masks available for sale.
This requirement applies to ALL persons ages 2 and older, and is in place because adequate social distancing may not be possible within certain Museum facilities and programs (specifically restrooms and indoor exhibit galleries, and train rides).
Closed on Mondays
To allow for additional, regular cleaning plus help adequately staff the Museum, they will be closed on Mondays. Hours will be Tuesday through Sunday, from 9 a.m. to 5 p.m.
Purchase Train Ride Tickets in Advance
Train Rides are available for an extra charge every Thursday, Friday, Saturday and Sunday – through August, Train rides will depart every 30 minutes between 10 a.m. to 3 p.m. Note: there will not be a 12:30 p.m. train ride, so railroad operations crew can take a lunch break.
To help ensure public safety and avoid crowds, they have reduced the capacity aboard our open-air gondolas and coaches. Timed Train Ride ticket purchases will be required.
It is strongly recommended that visitors pre-purchase Train Ride tickets online, in advance.
Museum members, your train ride tickets are now FREE, except during special events and specially ticketed themed events—however, you are encouraged to reserve Timed Tickets online in advance, too. ALL train rides will be offered on a first-come, first-served basis.
There are currently no additional costs or convenience fees associated with purchase of standard admission tickets and weekend train ride tickets. Tickets will be available online no later than Tuesday, June 2.
Train Rides will operate utilizing open-air excursion cars and enclosed coaches, rather than the customary "Galloping Goose" rail motorcar.
This will allow the Museum to welcome a larger yet appropriately limited number of guest groups aboard for each departure, via Timed Ticketing, so as to help in maintaining proper social distancing during the train ride.
Boarding areas will be spacious, with signage to help guests remain a safe distance from each other while waiting to board their train.
More Things You Should Know
Mile High On The Cheap has a page devoted to the Colorado Railroad Museum where you can find more details on tickets and pricing.
The Museum will continue to offer FREE regular admission to members, as well as to active-duty military personnel and their families, including the National Guard and Reserves.
Free military admission runs from reopening through Labor Day (Monday, September 7, 2020).
Restrictions apply for free member admission during Special Events and ticketed Theme Train events, including Day Out With Thomas and The Polar Express Train Ride.
Questions or concerns? Contact the Museum at (303) 279-4591 during business hours, or email info@crrm.org.
Visit the Colorado Railroad Museum
When

Weekly on Sunday, Tuesday, Wednesday, Thursday, Friday, and Saturday @ 9:00 am-5:00 pm (starting June 2, 2020)
What
Visit the Colorado Railroad Museum
Colorado Railroad Museum
17155 W. 44th Ave.
Golden, CO 80403
303-279-4591