Fitness fans will welcome this news. State health officials announced guidelines for reopening gyms, fitness classes, rec centers and other indoor sports facilities on Thursday, June 4, allowing them to operate at up to 25% capacity or 50 people per room — whichever number is fewer — as long as members can stay 6 feet apart. Facilities can open as soon as today, Friday. You'll have to check with your facility to learn more. Whether you are ready to go back is another matter. Here's what you need know:
Indoor gyms & fitness classes, recreation centers, bowling alleys, pools, indoor sports facilities
Must limit indoor facilities to up to 25% capacity, or 50 people, whichever is fewer, per room, so long as people can stay 6 feet apart from each other.
Limit the pool to 25% capacity, or up to 50 people.
It is strongly encouraged to limit pool activity to lap swimmers. For those that allow open swim, make efforts to reduce in-pool interactions between people not in the same household.
Teams participating in organized recreation against one another, should still observe the limit of 25 players, excluding coaches.
Expect the use of a reservation system or electronic capacity monitoring systems if feasible to space out and limit participants gathered at one time.
Discouraged use of any shared equipment and all equipment should be cleaned and disinfected in between each use.
Maximize ventilation by using fans and opening windows, wherever possible.
Staff members and patrons should wear face coverings when they can do so safely.
Organized recreational sports
Organized youth or adult recreational sports leagues in groups of up to 25 players, excluding coaches and referees/umpires, are permitted.
Spectators are strongly discouraged for adult sports. Spectators, like parents, are permitted for youth sports, so long as members from different households maintain at least 6 feet of physical distance from each other.
Do not share snacks or water, except in emergency situations.
If possible, bring your own personal equipment such as bats, mitts, rackets, etc.
Games that require extensive travel are strongly discouraged.
Masks are encouraged where feasible (i.e. in dugouts, by coaches, by spectators)
Competitive events such as races and endurance events are allowed as long as social distancing and limitations on group size can be maintained. This includes implementing staggered start times and making efforts to prevent gatherings at starts and finishes, so that no more than 10 people are gathered at a time.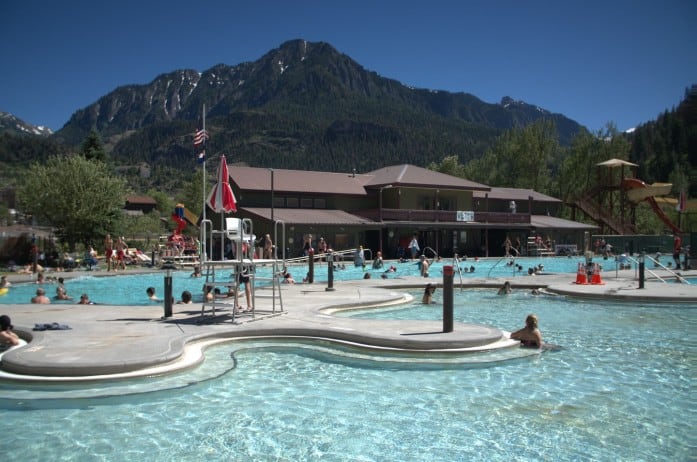 Outdoor swimming pools
This includes any pool open to the public, including but not limited to municipal pools, homeowner association pools, pools at fitness centers, hot tubs, and developed hot springs.
Limit the pool to 50% capacity, up to 50 people, whichever is fewer.
It is strongly encouraged to limit pool activity to lap swim. For open swimming families are encouraged to stick together.
All frequently touched surfaces and shared objects such as handrails, chairs, and tables should be disinfected every hour between use.
Surfaces in restrooms and locker rooms should be routinely cleaned every hour.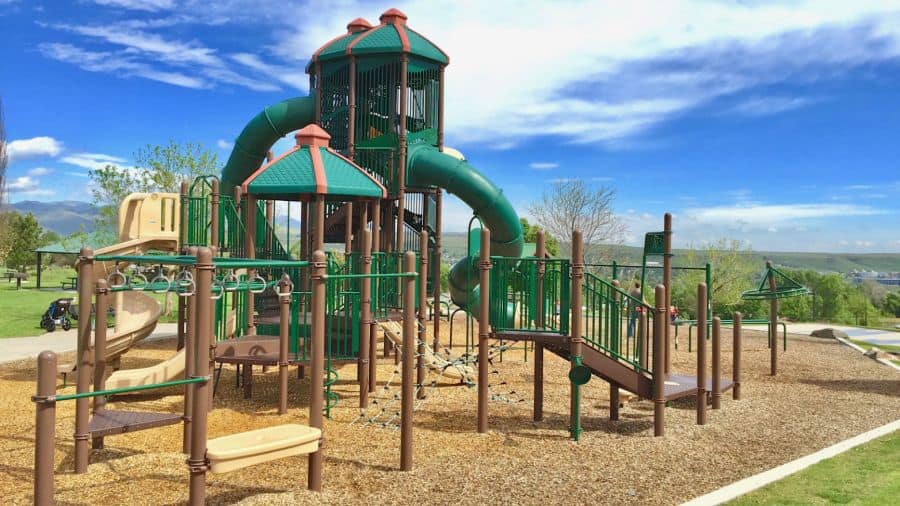 Parks
Playgrounds may be open to up to 10 people at a time.
Outdoor sports facilities for individual (non-league) use (e.g., tennis courts, basketball courts, pickleball courts, bike tracks, motocross tracks, fields) may be open to up to 25 people at a time per court or per field.
Park benches or playground equipment should be cleaned as often as possible.
Read the complete guidelines here.