This is going to sound a bit weird, but I love getting my car washed. In fact, during the height of the stay-at-home order, my one distraction was the two-minute ride through a nearby car wash. With the colorful soaps and brushes and sweeping mops, it was like a fun amusement park ride. As a bonus, I have the cleanest car in my neighborhood. So I was happy to learn that this Friday & Saturday, September 25 & 26 marks the "Re-Grand" opening of a brand new Car Wash USA Express in Highlands Ranch.
From 7 a.m. to 8 p.m. BOTH days, you can get a FREE Express/Basic car wash ($9 value), no strings attached. The wash also includes access to FREE vacuums and mat cleaners.
But wait…there's more! Food trucks will be on-site dishing out FREE food to those who stop by. On Friday, it will be Em's Ice Cream. On Saturday, it will be Chuey Fu's.
And, you can enter for your chance to win some great prizes, including FREE washes for life, $100 Amazon gift cards, a big screen TV, Beats headphone, FREE wash packs and more.
(The fine print: Winners will be randomly drawn on Monday, September 28 and notified via email or text. Must be 18 years or older to win. No purchase necessary.)
What makes Car Wash Express USA so cool? This is an express tunnel wash.
That means you stay in your car as it travels through the wash on a conveyor belt. And no long waits or lines. Their goal is to get you in and out in about three minutes.
Here's how the car wash works:
You'll be greeted by friendly, professional associates who will guide you through the simple process. After choosing your level of car wash, pull up to the tunnel entry area.
There, professionals will guide you into the track. They'll let you know when to put your car in neutral, take your feet off the pedals and hands off the wheel. You can then sit back, relax and enjoy the show!
Your vehicle will move through the wash process at the precise speed for optimal cleaning. The system cleans the vehicle exterior with gentle touch washers and bio-degradable mild cleaning solutions.
Your wheels and whitewalls will be cleaned, and your vehicle will be rinsed and gently dried. All automatically, in a few minutes.
When you get the green light, you can put the car back in drive and pull into the Free Vacuum area to put the finishing touches on the interior of your vehicle.
What makes it different from other washes? Their Polymer Pro proprietary wash which is a sealant and protectant that seals minor scratches and decreases the permeability of paint.
Essentially it makes your car look shiny and new all the time and causes the water and dirt to just bead-up and fly off your car.
The wash uses less water than if you were to wash in your own driveway. Where law allows, they use reclaimed water.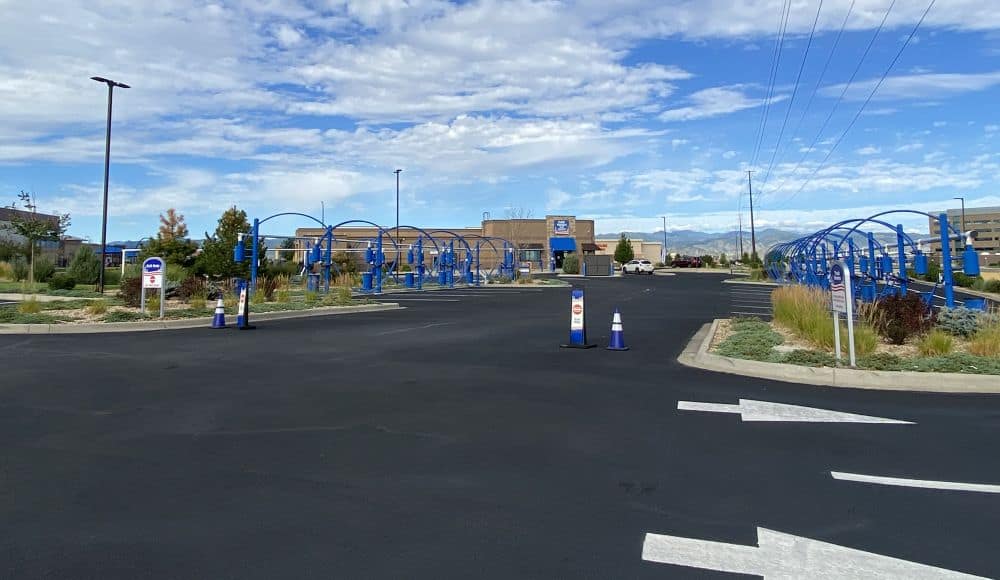 There are five wash levels. An Express Wash is $9 and it goes up to $21 for the Polymer Pro Wash. You'll find a complete list of one-off pricing here, so you can compare what is included with each.
For those who attend the Grand Reopening, check out your car after the wash. If you love it, you can take advantage of exclusive membership pricing and wash pack sales that will only be available on Friday & Saturday at this location. For instance, pay just $5 for the first month of any tier of their Unlimited Wash Club. Or get a Wash Pack (5 washes for the price of 4).
If you like the idea of washing the car as often as needed, consider a 6-month or annual Unlimited Wash Club Pass. They'll be on sale during the re-opening.
Then, like me, if the day after a wash your car gets splattered in quick rain shower, drenched by ice breaker during a snowstorm, or a bird decides to you-know-what on your windshield, you simply run it through again.
People with memberships enjoy unlimited washes (pays for itself after just two washes) and access to unlimited use of vacuums and mat cleaners with every wash.
Membership holders are free to use any of the 12 Car Wash USA Express Colorado locations including: Aurora, Brighton, Broomfield, Castle Rock, Centennial, Denver, Grand Junction, Highlands Ranch (2), Littleton, Northglenn and Parker.
Click here to be taken for a map of all locations with addresses.
Final words from a car wash junkie: Before you drive into the car wash, remember to remove any magnets you have attached to your car's exterior. I can't tell you how many times, I've forgotten and had my MHOTC magnet get whisked away.
Car Wash USA Express Highlands Ranch is located at 1101 Town Center Dr. (across from the Highlands Ranch Town Center North Shopping Center).